Can it really be so long since I've posted?! Ack! The weeks are flying by.
Thanks to all who have commented about or purchased my tute. Please know how much that means to me. Really appreciate your thoughts, encouragement and support!
I guess this is my new reality for the time being...replying to your thoughtful comments in the following post. Thank you thank you all! Your thought provoking insights and shared adventures are such a welcome treat!
Bond girl, thanks to your recommendation, I did Google "12 foot gator in Lake Brantley." Yowza! Boy do I do miss the gator excitement of Florida. Yes, I do in fact live vicariously through you.
Welcome Henriette! How nice of you to stop by.
Lela, the Oh My God Road is in Idaho Springs. About an hour west from Denver up highway 70. Yes, you are so right-much of the state looks exactly alike! And I'm hoping it still does after all of that awful flooding. My heart goes out to all those affected.
I know, I know. For as long as it's been since I last posted, I should have many adventures of swashbuckling on the high seas or megladon tooth diving in the Atlantic, maybe traveling to
The
Great Wall. But no. Nothing. Nada. Zip. Workwise, there's a few baubles and trinkets to share. With what has become my go-to copy/pasted descriptions. Yup, still absolutely hooked on that, even if it does seem a bit less chatty than my norm. I'm working on a new submission article. Also have been organizing, well, attempting to organize the studio and the garage. Always gets worse before it gets better, eh? But the upside to that is that instead of spending half of my available working time hunting for things, I can now actually find what I'm looking for. Most of the time. Which seems to be fueling the creative fires.
These dramatic earrings feature hand hammered sterling silver hoops, gorgeous turquoise raku headpins by Havana Beads, fossil mammoth bone beads, pyrite nuggets and tektite beads.
These assemblage earrings combine two of the faux raku hand charm samples featured in my Faux Raku Tutorial, along with lampwork leaf headpins with traditional raku frit made by Havana Beads, gunmetal ceramic disc beads and pyrite beads on a lacy wire wrapped frame. The deep, rich colors of the two varieties of raku harmonize perfectly lending a mysterious, romantic feeling to these medium weight earrings.
These striking wire wrapped, assemblage hoop earrings are embellished with orange raku lampwork headpins by Havana Beads, natural tektites and wee brass bells.
These dramatic earrings feature hand hammered sterling silver hoops, gorgeous black raku headpins by Numinosity Beads, fossil mammoth bone beads, Baltic amber nuggets and tektite beads.
These dramatic wire wrapped hoop earrings are adorned with headpins and hand formed clay pieces that were featured in my Faux Raku Coloring and Effects tutorial. I've oxidized the entire earrings and preserved the patina with micro wax. Further embellished with hand dyed silk ribbons that compliment the striking coloring in the faux raku finish, these earrings have a mysterious Gypsy vibe about them.
This next piece was a private commission. My client asked for a "Back necklace" with layers, colors and textures. As an added bonus, I also made a pair of earrings and stacked bracelet set to accompany it. Pictures of those? oops.
Oodles of goodies. Vintage micro mosaic focal adorned with a plethora of stones, Scorched Earth goodies, Havana Beads lampwork headpins and beads and fancy chains.
Front
Back of the necklace. It hangs to the small of her back.
These delightful earrings combine the vivid greens of Scorched Earth disc beads with two of the brightly colored faux raku floral charms from my Faux Raku Tutorial. They are further enhanced with hand dyed silk ribbons, ceramic disc beads in lime green and gunmetal grey and black glass saucer beads. The effect is boho chic on Saturday night.
These elegant earrings feature black drusy, faceted black sapphires, sterling silver and faceted labradorite with striking flashes of blue chatoyancy. The combination is pure luxe without feeling traditional. I've added sterling beadcaps above and below the sparkling black drusy for added visual texture. The entire earrings have been oxidized and gently buffed back to highlight the designs in the sterling.
These striking assemblage earrings feature hammered sterling silver shields to which handformed sterling earwires have been soldered. Embellished with nuggets of Kingman turquoise, rhinestone rondels, ceramic disc beads and striking turquoise raku headpins by Havana Beads.
These assymetrical statement earrings feature dramatic fancy pearls with pierced sterling silver and gorgeous silver drusy. A bit of bohemian lux mixed with uptown elegance, these will add a striking accent to your favorite little black dress or your favorite about town outfit. I've oxidized the entire earrings then gently buffed them to subtly age the patina.
This gorgeous statement necklace features a dramatic fancy pearl hanging from a beautiful repouse and pierced sterling silver focal. It is adorned with both faceted and teardrop laboradorite stone beads that have a flashing blue chatoyancy. A striking black sapphire atop the fancy pearl provides a bit of elegant drama and understated elegance. The black spinels and textured sterling discs add visual texture, which compliments the smooth sheen of the silver focal piece. A bit of bohemian luxe mixed with uptown elegance
Reworked this next pair, by adding the sterling hoop with dangles surrounding the labradorite drops below and the peridot green rhinestone rondels towards the top. Now they seem finished to me.
Fragments of ancient Roman glass has been excavated and made available for artisans to use in their own interpretation of ancient style jewelry. This pair of earrings is my take on ancient elegance. The beautiful light green glass has been paired with striking faceted labradorite stones in these pieces of captured time. The labradorite stones have flashes of blue chatoyancy that catch the light as the earrings dance on your ears. One piece of the glass has more irridescence than the other. Both pieces have the lovely patina that is uniquely found in excavated Roman Glass. The labradorite onion cut beads are enclosed within a sterling hoop, adorned with sterling beads and hammered wire dangles
These dramatic earrings feature long raku headpins by Numinosity Beads with stacked fancy disc lampwork beads by Debbie Sanders topped off with etched black lampwork beads. They remind me of Boho Chic goes into orbit. The beautiful effects of raku on matte black combined with the silver and copper accents on the gleaming glass discs paired with the etched design on the matte globe beads results in a pair of decadently mysterious earrings sure to compliment anything you wear them with. The warm tones in the raku and glass discs adds a warmth to the cool black that elevates the design to a level of simple elegance.
The glass eyes are flying out of the shop. No surprise. They are things of beauty. This is the third group listing, offering one eye from a choice of five eyes per listing. This group has a nice variety of colors, including a very very dark eye. All quite striking! I'll just show you a couple of them.
These antique, vintage prosthetic human glass eyes were made in Germany sometime between the 1890's-1940's. The person that I acquired them from, said that they were at least 80 years old.
These amazing works of (literally) wearable art, were made by highly skilled master glass workers. They are one of a kind, made to perfectly match the customers eye. I was told that these particular eyes were never worn and were at most tried on for fit.
The current process for making prosthetic eyes uses acrylic rather than glass, making these antique eyes rare and highly sought after.
Creating these beautiful glass prosthetic eyes is, sadly, a lost art. Subsequently these eyes are becoming more difficult to find.
I've also listed a rather extensive china collection featuring violets and pansies. These have simply got to be the happiest looking flowers. They always bring a smile to my face. And here's a bit of trivia for you, the actual flowers do very well throughout the winter here in Texas provided it doesn't get too cold. It's no 12 foot gator, but hey. It'll have to do.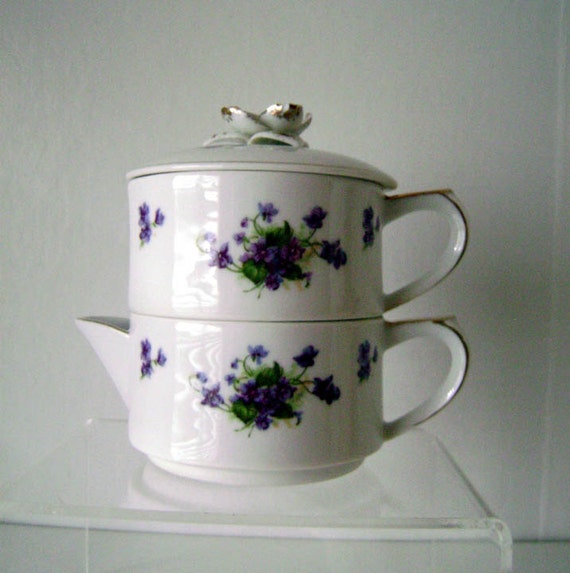 This delightful stacking sugar and creamer set features beautiful violet flowers and foliage on a white background. A charming handle on the lid is in the shape of a sculpted flower. The gold trim lends an elegant touch to this sweet set.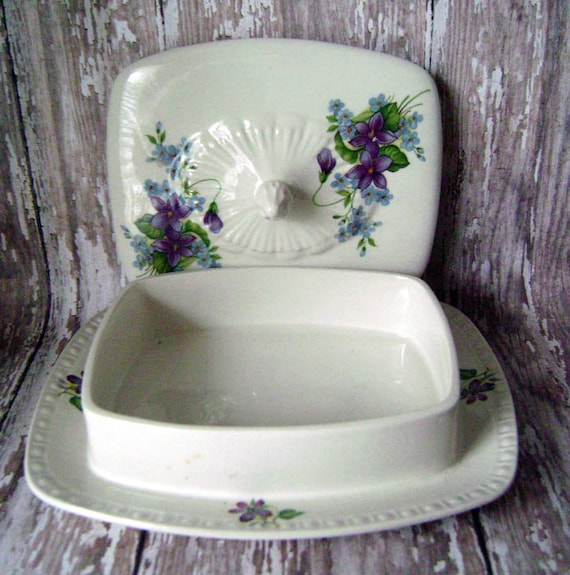 This unusual covered dish features beautiful violet flowers and foliage on a white background. The tray is attached. It is in very good vintage condition. I've never seen another one like it.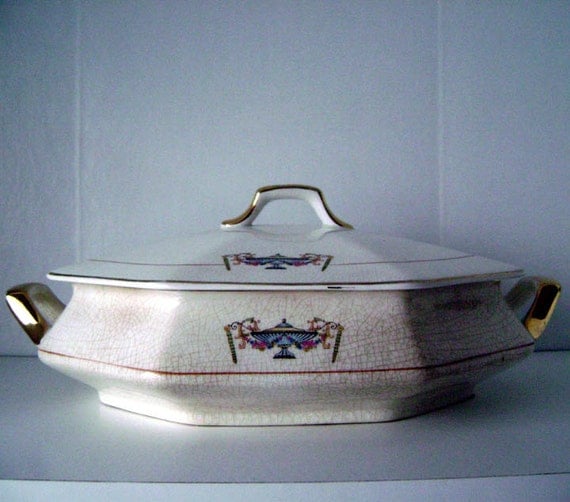 This stunning vintage covered serving bowl features beautiful blue urns, floral swags and a graceful, elegant shape. This wonderful piece will add a sophisticated touch to your decor or table.
The mark says "Martha Washington".
Of course, there's more detailed information in the listing descriptions.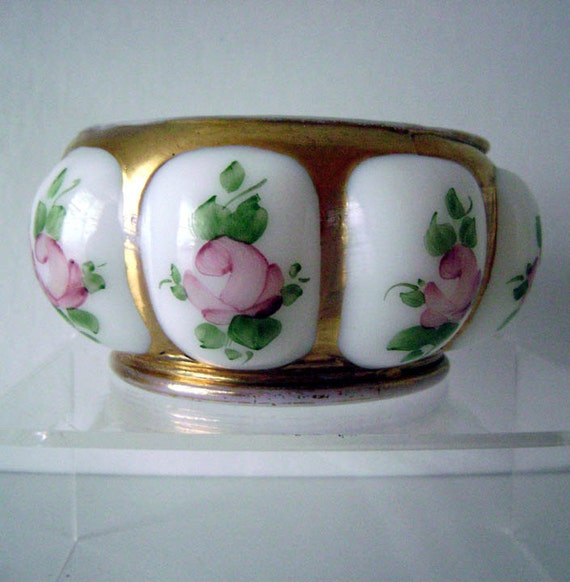 This gorgeous vintage bowl features beautiful hand-painted roses on a "bubble" bowl. Embellished with gold accents, this bowl is a special piece. Pink roses, green foliage on a white background with gold trim evokes a romantic feeling. The perfect addition to your shabby chic or vintage decor.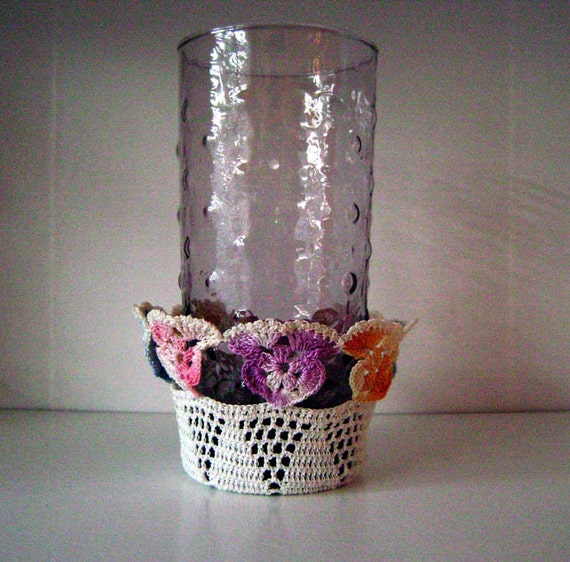 These adorable drink coasters will add nostalgic charm to any table. Hand-crocheted in a delightful pansy pattern, these are sure to bring a smile to your face as you and your friends enjoy your mint julips or mojitos .
There are 8 coasters included in the listing.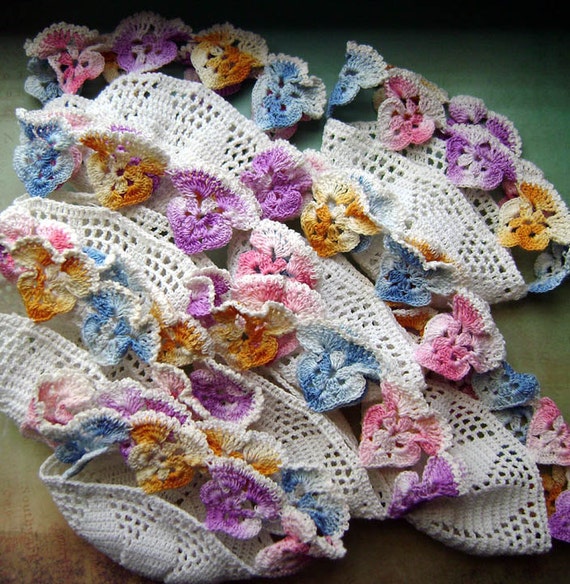 I attribute my fascination with hand work and beautiful flowers to my beloved grandmother. Her back yard was literally filled with glorious colors and aromas of numerous varieties of blooming beauties. I still remember the first time I smelled the peppery scent of a carnation in her garden. Inspired by the beauty she created, as a child, I imagined that I would never have a lawn but instead, would have a yard of only flowers. Inside, all of her kitchen window ledges were overflowing with African Violets which seemed to be constantly in bloom. She could grow anything, it seemed to me. A fabulous cook and a master of the needlearts. She managed to infuse her simple and humble life with a richness achieved by those who see the beauty in common things and are able to coax the hidden rare treasures out of the most unexpected places. She was and remains to me, a fascinating person. An early and tremendously powerful influence for good throughout my life.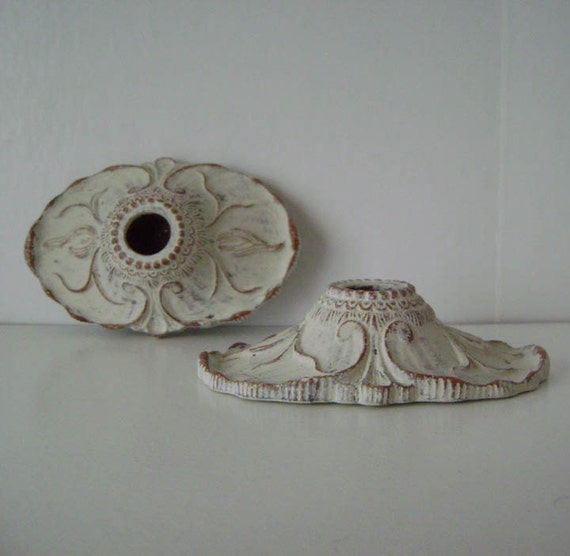 These lovely vintage candleholders will add a romantic touch to your vintage or shabby chic decor. They appear to be wood and have been antiqued in soft shades of taupe, white and deep brown for a sepia tone effect.
~~~~~
Shall we veer off my sentimental walk down memory lane and jump back into the present?
I reworked these a bit and am delighted with the results.
These delightful handmade, assemblage earrings have the fun vibe of a summer street market. Vibrant hand dyed silk ribbon adorns the crustified lime green lampworked headpins by Numinosity beads. These have been combined with crackled blue and white stone beads and disc beads cut from record vinyl harmoniously combine into a subtly colorful pair of easy to wear earrings.
Frames of handformed copper and brass have been soldered to sterling silver earwires for a mixed metal effect. The earwires are long enough that the ends of them peek through the small brass circles for added visual texture. The metal has been oxidized and gently buffed with steel wool to highlight the variety of metals.
This handmade modern archeology, medallion necklace features a forged focal piece embellished with natural turquoise nuggets and copper beads. The solid copper medallion has been shaped and textured by a combination of heating and hammering. A verdigris patina was applied using the sawdust method.
A simple, everyday neck-piece.
A new pair of Scorchedosity. Anytime the work of these two talented artists is combined, wonderful things happen. Colorful scales from Scorched Earth paired with black crustified headpins by Numinosity Beads. Just so happens these match a sweater I have so........
These striking handmade earrings have been created using a foldforming process. Strategic hammering coaxes flat sheet metal into the sculptural three dimensional leaves that you see here. These earrings mimic the color of leaves as they change in the brisk Autumn weather. They have been flame painted then oxidized in certain places to capture the look of aged leaves in their final glory.
These flame painted, handformed copper leaves fall in a graceful pattern amidst the multi-hued freshwater pearls and colorful snippets of rayon ribbons. The effect is one of a Colorado mountainside at the peak of fall colors.
Yup, more of the Colorado theme. Hahahaha. Can you tell I've recently been back home for a visit? Now if there was a way to do taste-a-vision so we could all enjoy a western slope peach....
I also reworked this next piece. Hmmmm, why yes, I did add Scorcehedosity to it.
You have a keen eye to spot that!
This dramatic statement necklace was created using a Foldforming process. This technique is the brainchild of Charles Lewton-Brain. It involves strategic hammering on sheet metal, using a variety of specialty hammers, stamps or stakes. It's a thrilling technique as you see the flat metal begin to resemble the folds in fabric, rippled water or any number of other textures. This scrolled piece of flame painted copper has been sealed with numerous coats of a sealant specifically suited to metal. The interesting tones in the metal's patina is complimented dramatically with two strands of beautifully colored agate, in multi shades of tan, brown and black. A single freshwater pearl accents the ripples in the metal. Embellished with lustrous metal glazed ceramic drops by Scorched Earth and the unique lampworking of Numinosity beads, this handmade artisan necklace is a one of a kind, statement neckpiece.
Recognize these earrings from the recent article in Belle Armoire Jewelry that I featured in my last post? Um, yeah... the one about a waterfall in Colorado. Sheesh. Ok, I'll stop with the Colorado references now.
Maybe
Dripping with vintage pearls and glass drops and lampwork headpins by Nadin, these unique, handmade, assemblage earrings evoke a sense of rustic romance. Named "Bridal Veil Falls" after the Colorado mountain waterfall that inspired them. Inspired by the wonderful ceramic components made by Petra of Scorched Earth. The moment I saw these pierced lacy bowls, I knew exactly what I wanted to make with them. Dangling from the ceramic bowls are antiqued copper chains embellished with vintage and modern glass headpins in blacks and whites and vintage twist pearls with the nacre purposefully removed in spots to add visual texture.
Do you all remember the quest for the perfect ear from oh so long ago? Solution found! Well, found awhile back but I kept forgetting to take pics. What do you think?
So if you see earrings modeled on a perfect ear, it's one of these lovely ladies. Guess I need to get busy and fix their hair a little better though, eh?
A simple pair of handmade mixed metal earrings featuring hammered brass hoops and hand-formed sterling silver earwires Dangling below are fabulous bronze twist dagger spikes by Scorched Earth on Etsy. The diverse textures compliment each other to create minimal yet visually intriguing, contemporary earrings.
~~~
switching gears
~~~~
I have yet to see a single cute critter since moving here.
But lots of this sort of thing, our latest visitors....
The photo didn't capture the intensity of the orange color.
Quite vivid. And very creepy.
This guy has become a regular.
He's the smaller of two that hang around here.
The larger, more elusive lizard isn't ready for his cameo yet.
Then this.....
Inspiration for many a movie alien character, me thinks.
He was so incredibly friendly.
Kept flitting from one of us to the other.
Eventually settling down and very happily riding around on our arms
until we had to move in such a way that he had to fly off.
Then he'd be right back.
Texas critters might not be cute but they are friendly.
Well that's all folks.
Hoping that all goes well for you and yours
Toki sio (see you later in Tongan)