Hello all,
The post title has you wondering, doesn't it? Is she actually going to tell us the tale of the amphora- finally? Why yes, folks, I am! First thing too, so your eyes don't glaze over before I get to it. Pull up a comfy chair. Grab yourself another cup of coffee. Here goes....
I think those of you who are jewelry makers reading this, will understand what I'm talking about in this here tale of woe. You know those projects that you labor over? Putting thought into each and every tiny detail until you get it just exactly as you envisioned? Well that is the situation surrounding this amphora necklace
You are probably asking yourself why? Why am I so taken with this assemblage? Cuz you're just not seeing it, eh?.....Let me start at the beginning....
This necklace is filled with components that have special meaning or memories for me. It was a joy to work on and it came together so smoothly. It began with finding the amphora shaped bottles. Score! I am completely crazy over anything amphora shaped. Me thinks I should have been an archeologist. Anyway, I found these bottles at that same store I referenced in my last post. The store where I bought those photos that were confidential and had that scary warning. You know, the paper that the four dioramas were sitting on. Oh you didn't read the post that thoroughly? See what you're missing? Anyway, I found them at that store! Yes, it's my favorite store! However, the jars are a bit big so the necklace had to be dramatic to make it work. Or so I thought. ( * remember this point later cuz I'll come back to it). I made some wire handles on some and foiled and soldered others. But this one, just this one, I constructed this delicious wire cage around it and soldered it up. The cage isn't perfect. One of the wires is a little wonky. Just as you would expect from something that has been buried for hundreds if not thousands of years. And that is precisely the look I was going for.
I had it all soldered and patinated for months, ready to go. Waiting .....waiting..... for inspiration to strike. Finally it did. I gathered up the bits and parts and began to assemble. Notice the stopper
If you can't take a sappy tale stop reading
now
. Cuz this one is about to get very touchy feely. My husband who prefers to remain nameless and faceless on this blog and who I shall refer to as my man of mystery (how fun is that?) (and yes, I do believe I have free license to insert a picture of anyone I want as a faux husband if I can't use his picture, right? Yup, that's what I thot too) So here is my faux husband. Dreamy, eh?
so anyway.... he's a dream of a husband. He actually traveled with me to another state to accompany me to a bead show. I mean really, who does that?! He does, that's who! Ok I'll quit bragging on him, I know how obnoxious that is. But the point is, he is ever patient, as I look at
everything
, he doesn't get "shopping face" and he says "you need that, get it!" Even if I don't
need
it, but just
want
it. Such is the case with that beautiful little double sided face bead. (and yes, me being the more practical one of this duo, bought just one of them! argggghhh) And the faceted labradorite briolette at the bottom of the stopper, right there under the
RUBIES!!!!
As well as the tiny little pearls around the rim of the amphora. I did mention that I looked at every single thing, right?
But those aren't the only wonderful memories wrapped up in that stopper. You all know the mythical Kathy. See that awesome mottled ancient looking bead there above the rubies? Well, that's from a bead show, one of only two, that I got to attend with Kathy. She found them! The last four strands and ran over to me exclaiming "Look at these! I got all they had!" Then proceeded to let me have half of them. And she LOVED them, and let me have half of them. Wait while I wipe this tear from my eye.............ok I'm back. And I'm not done yet. That verdigris disc that the head is resting on, well that was a gift from the amazing fanci of fanciful devices! So you can see why this amphora is so special. But people, that was only the stopper! Ok how many times did I use the word "stopper" in that paragragh? hmmm
Did you notice the toggle? This one here
Might not look like much to you guys but let me tell you why it's awesome........are you sick of hearing about Kathy? Well she's all over this place like white on rice sooooo. You know the rockhounding trip out west where I got those incredible dendritic slate pieces in the Lace of the Desert earrings that I explained in a previous blog? hmmmm. You have no idea what I'm talking about? None at all? :(. You would know the ones I'm talking about if you would just read the words typed into my blog. It's not like I run on and on and on and on......ok I do run on, but still. C'mon guys, I'm not writing this for my own amusement. See all the fun facts you're missing? So anyway, we went on that trip with Kathy and her husband. I found this jagged little piece of rock in a dry riverbed as we were searching for ammonites (which we didn't find any of, btw). Don't know why I picked it up exactly. Except that the way the layers were stacked on each other reminded me of the cliff dwellings at Mesa Verde. Which I have visited many times.
I know it doesn't look much like that now after I grinded it smooth, just smooth enough to be comfortable, but it started out that way and is still a really cool rock. Yes, I just wrote that sentence. I'll try to pick up the pace here, cuz I just heard some of you yawn. Remember the gift from
fanci?
Well those awesome ancient looking blue-ish beads were part of that gift. And remember the man of mystery? How could you forget? Yowza! See those uber cool black dagger beads, the
matte
ones? Well those
matte black dagger beads
are some he picked up for me at.....are you sitting down? He happened to be in another state and there was a big bead show going on there. So I asked if he happened to have some extra time (as if) and had nothing better to do with said free time (as if), and if he would please run into that show and go to this one exact booth (yes I gave him the booth number and the name of the company to make it really easy for him) and get this one particular brand new tool that I had been waiting for and that had just been released and that was available there and would he mind? Did I mention he's a sweetheart? Not only did he go into that bead show and get that tool for me, but while he was there, he also looked around and bought me some beads he thought I would like. The black daggers among them. Sigh. When he saw my reaction, he lamented that he bought only one strand of them! He's awesome! So that my friends, is why this amphora is a truly special piece, dear to my heart. So why is it a tale of woe? You still with me here? Ok the sentimental stuff is done, I promise. Now the nuts and bolts of this story. My work room is upstairs. It's my "clean" brahahahahahahaaa workroom, where I do the non-messy parts of jewelry making brahahahahahahahahah. Are there any? And my "messy" workroom is in the basement, where I do the patinas and soldering, etc. Pop quiz.... where do I do my lapidary work? If you actually read my blog, and don't just look at the pretty pictures, you'll know the answer to that! Not that you'll care about it, but you'll know about it. Anyway...I got the very last wire wrapped, and jump ring closed and chain attached and was completely delighted with every detail. Last thing to do, age it! So tra la la off to the basement I go, carefully of course so that I don't fall down either set of stairs and break my precious amphora. Tra la la apply the oxidizer and wait...... la la la...... love my amphora necklace........ apply the wax to seal in the oxidizer...... hum de dum.......buff the wax and set it down on the table while I put the buffing rag away............. So you all get how much care I've put into this piece by now, right? And yes, I do realize that at this point I'm whining self-indulgently. Thank you for allowing me to do this. Cheaper than therapy. So as I turn away for a brief moment........the amphora slides off the edge off the table.........as if in slow motion.........it falls..........but I was sooo careful.........We all know what basement floors are made of, don't we? ( I now think concrete is made for jewelry not floors). Don't be confused for a second that your basement carpeting will protect
your
amphora when it rolls off the table either. Just saying.
A piece missing! Arghhhhhhhh I might be able to camouflage that. After all, lots of ancient vessels have bits missing. I just need to get a bit creative and figure something out, right? That's when I saw the crack.......
no disguising that. And I'm not sure of the structural integrity of the amphora itself because of the crack. It's probably fine because of all the soldered wire surrounding it, but it's not perfect enough to offer for sale anymore. Funny thing is, I don't mind flaws. They add character. I like things with a history. Things that have a story to tell. So my reaction was unexpected, to say the least. I was surprisingly bummed out by the sad turn of events. Now, though, I've come to think of it as a happy accident. Because I would have offered it for sale. Possibly it would have sold to never be seen by me again. As our dear, sweet, understanding, sympathetic
Petra
said when it happened, that it just needed to stay with me anyway. Now, I guess, all things considered, it's become even more dear to me. It really does look like it lay buried under the earth, countless moments in time swirling above it. Activities filling the daily lives of unknown people traveling to and fro, compacting the earth ever so slightly over the years, finally resulting in the stress fracture. By Jove, I've got it! I need to concoct an elaborate tale of how it got broken, don't I? Something a little more exciting than "it rolled off the table and hit the concrete floor". Aww see! You guys
are
better than a therapist!
How about we do a little un-eye-glazing now? My amphora met it's semi-demise, but remember that I said I worked up handles, etc on some others? Well I sent one to
fanci
and she had hers put together and listed in her shop before I even had a plan for mine. (but then, doesn't she always? yes, because she's an android) Here's the lovely job she did with her amphora.....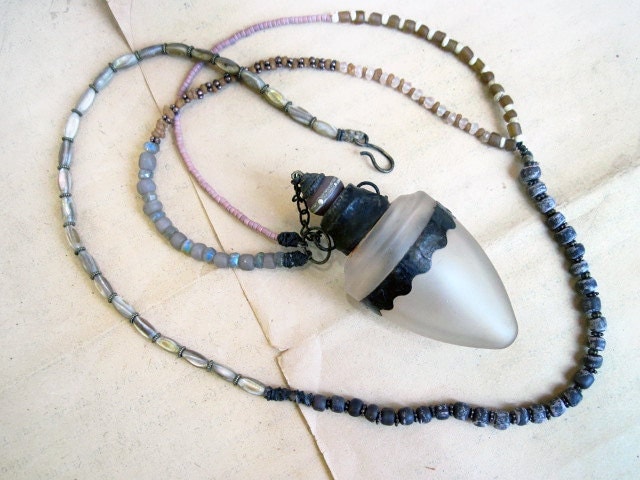 It's available for sale. just click on "
fanci
" to visit her store and see it in all it's glory. I love that we had such divergent visions and yet they both turned out so well. * Notice that hers isn't dramatic. It's simple and lovely.
Ok Ok I'll switch gears now..sheesh. C'mon, humor me a bit here. You know you wanted to know what all the amphora chatter was about.
I made a pair of earrings out of some of those resin pieces I showed you last post. It's so hard to capture the resin bird in pictures but I absolutely adore how these earrings turned out.
They're listed in my
etsy store.
I named them 'The Ice Sparrow'
I also listed these
I made that pair while I was sick along with these two, but I kept forgetting to photograph them!
Spring Fever
I have no idea what it was about feeling bad that resulted in these dramatic yet delicate earrings! Maybe cuz I was feeling so dramatic yet delicate myself, eh?
Also finished up two more dioramas. Wanna see?
Hard to see in this photo but these guys have just discovered the long lost treasure of.........
The Merchant Royal. Possibly the greatest hoard of sunken treasure still waiting to be found on the seabed around Great Britain. The Merchant Royal went down on September 23, 1641. Carrying a king's ransom in Spanish treasure, she went down in bad weather "ten leagues from land's end". In her hold lay masses of silver, gold, rubies, emeralds, diamonds and pearls by the hundreds, along with heavy pieces of jewelry set with precious stones. These divers are amazed at the hoard of rubies, emeralds, pearls and gold laying at their feet! Could this possibly be the treasure of the Merchant Royal? Could it?
I'm thinking
Petra
should go take a look see.
I also finished this one.
Carved bone beads, some more of that dendritic slate, a textured copper bar with verdigris patina, amazonite, some sort of seeds, a segment of a fossil crinoid (fossilized sea lily stem), glass beads and delicious sea green beads of an unknown stone.
Day at the Beach





Amazing how much sand and surf one little fun-loving guy can kick up, isn't it?




Thank you all for stopping by my blog and for leaving your wonderful comments! I'm enjoying them so much! Hey did you all notice that I actually responded to your comments on the last post when you left them? How's that for prompt? :) Please keep in mind that my prompt gene is only semi-functional. So don't go getting your hopes up or anything, k?




Please stop by Tribalis's new blog and say hello! Lots of scrumptious pictures of her gorgeous earrings for you to feast your eyes on.




here it is, what you were waiting for, why you suffer through all my ramblings...........



Well that's it for now! Have a fabulous week!
Valete (Latin)